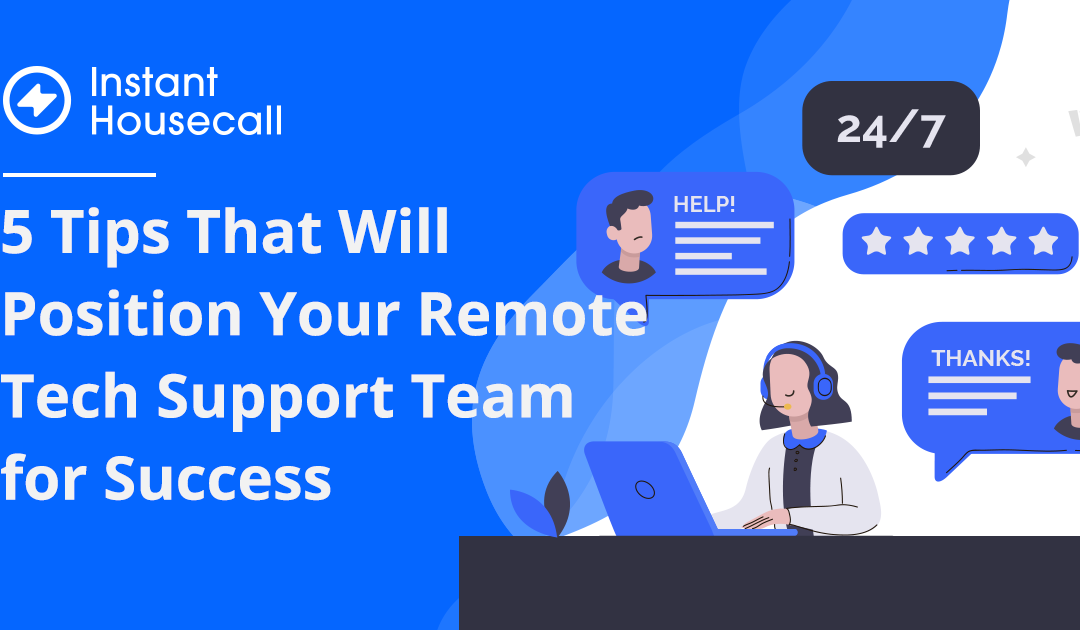 Remote support can be a great addition to the products and services your small business is already providing, but only if you have good support technicians.
If customers aren't getting the help they hope for, word will get out, and you'll find that your remote support revenue is going down as a result.
An average of 58% of Americans will switch to another company if they're not happy with the customer support they receive. On the other hand, 89% of consumers are more likely to purchase more from you after a positive experience. 
To grow your remote support business and your company reputation in a positive direction, it's important to position your tech support team for success. If you just throw them in the deep end and expect them to come out on top, you could find that your miscalculation has lost you an important client.
How do you set your remote support team up for success? 
1. Allow New Support Techs Time to Train With an Experienced Technician
Just because someone has good technical knowledge, doesn't prepare them for being online with a customer during a remote support call. The experience is very different when you're logged in to someone's system and with them potentially on the other end of the connection expecting you to fix everything.
You give your new techs a better chance at success and more confidence in handling support sessions on their own by allowing them some training time with an experienced technician.
Being on several support calls where they can watch an expert and then slowly ease into the lead role themselves, can ensure they're properly prepared when doing their first solo session.
2. Train Them on Your Customer Personas
Every business has different customer personas. These represent the different types of customers you provide remote support services to. For the average MSP or IT business, you may have personas that look like this:
Experienced with tech, like to know what's being fixed and how

Not comfortable at all with technology, anxious when things go wrong

Business owners that just want things to work as fast as possible
Each persona will require a slightly different approach. For example, those not comfortable with technology will need more patience. Users that are tech-savvy will want a full report of what was done after the call is over.
For all personas, support technicians need to learn how not to talk down to people but to vary the explanations they use according to persona type.
3. Make Sure They're Familiar With Your Products & Services
Often remote support calls end up being sales opportunities as well. For example, if a customer needs help removing a virus, once the malware is removed, a technician that is familiar with your offerings may offer to send some information on your managed antivirus plan.
If the technician doesn't know exactly what you offer, a sales opportunity could be missed. Also, a customer might wonder why the tech can't answer a simple question, like what's included in a managed IT plan.
Provide your remote support technicians with a listing of your products and services so they can become familiar with them if asked or if an opportunity to mention one arises naturally during a support call.
4. Provide Them With a Reliable Remote Support Tool
Few things are more frustrating to your technicians and your customers during a remote support session than having problems with the connection. If a tech keeps getting cut off or can't reboot a system without getting disconnected, it can cause your customer to go elsewhere for support.
You give your support team the best chance of success when you give them fast and reliable remote support tools. Robust remote support software doesn't have to break the bank and it can pay for itself in time savings and happy customers.
5. Outline Remote Support Expectations
If you send a technician into their first remote support call without letting them know your expectations, you're setting them up to disappoint you if they fail to record a support session or don't send the client a follow-up note.
Go through a standard remote support call and write down the process and what you need to have done before, during, and after. 
Is there specific information they need to ask of the customer for your records?

Do all sessions get recorded?

Are they to note the support work performed in a CRM?

What do they do if the session runs longer than expected?
Make sure you don't just assume your technicians know all your expectations. Write these down so they can refer to them and become familiar with the entire process.
Set Your Remote Support Team Up for Success with Instant Housecall Software
Instant Housecall remote support software is an easy-to-use, reliable, and robust platform built to enable great connections and allow technicians to focus on the job at hand. 
Try Instant Housecall risk-free for 15 days and experience it for yourself! Try it out now.