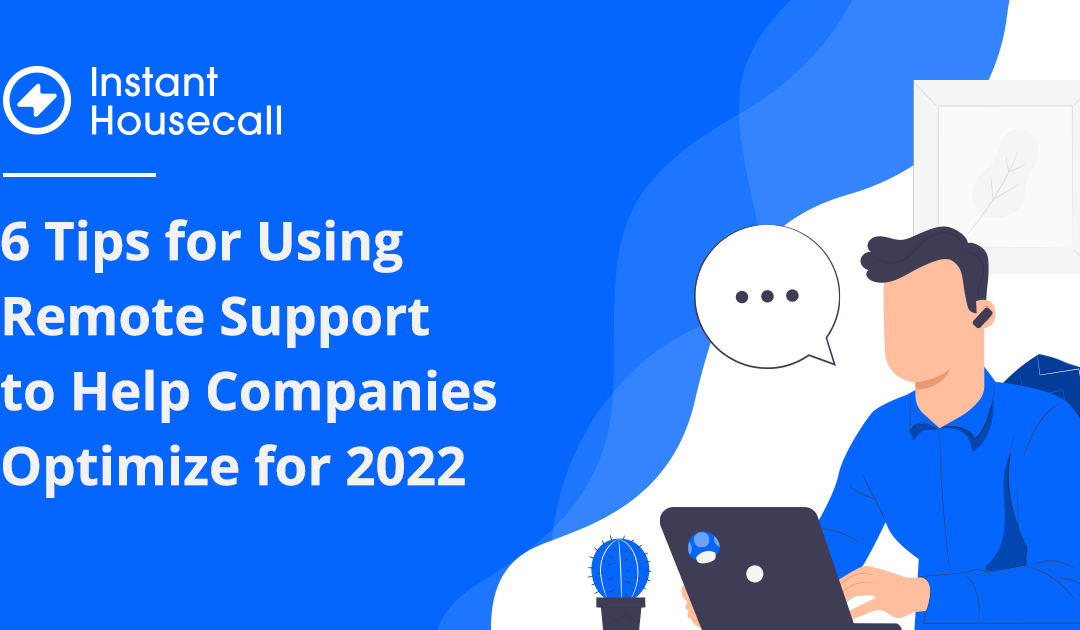 When we enter a new year, there is an air of starting fresh and resolving to do things better. People tend to make new year's resolutions, and companies will have their own version that has to do with optimizing and growing their business.
This is the perfect time to tailor your remote support services to fill that need to renew and start the year off right. There is a lot that an IT provider can do to help companies and work-from-home employees start 2022 off on the right foot.
Promote services that optimize, organize, and streamline digital tools and workflows as part of a "new year, new opportunities" drive for efficiency. Here are several ideas to get you started. 
Offer Speed Tune-Ups to Hit the Ground Running in 2022
Having a faster computer is a universal wish for users. Employees get frustrated with slow systems and employers are always looking to improve productivity. 
Offer a speed tune-up session to improve the performance of employee devices and identify any potential upgrades that would make a significant positive impact (such as a memory upgrade). You can promote this as getting a team ready to hit the ground running in 2022 and ensuring slow devices aren't holding them back.
Emphasize a Secure New Year With a PC Security Checkup
Security is a continuous concern for businesses. Cyberthreats are always evolving. Without constant vigilance, users can slip into bad security habits, such as creating weak passwords or not installing updates in a timely fashion.
Offer to help companies have a more secure 2022 by doing a security checkup for devices. PCs of work-from-home employees can be particularly at risk if they don't have any monitoring or management in place.
Many companies don't have proper visibility into the security of the PCs remote employees are using for work, which is why a larger number of cyberattacks (67%) now target remote employees.
Doing a New Year PC Security Checkup via remote support also sets you up to assist companies with any areas of risk that you find.
Promote Windows 11 Upgrades & Training
Windows 11 just came out in October, and a lot of companies have yet to upgrade. Many were waiting to ensure the new operating system didn't have any major bugs, and now that it has been out for a few months without any major issues, they're thinking about upgrading.
Help businesses start the year off right by upgrading to Windows 11 and offering to train users on the new productivity-boosting features like the native Teams integration and snap layouts for multi-tasking. 
Offer a Password Management Setup to Reduce Credential Theft Risk
Credential theft has now become the main cause of data breaches. This is due to more business data being in the cloud, making access to those cloud accounts a main target for cybercriminals.
At the same time, it seems like the number of passwords users must manage continues to go up, causing employees to adopt weak passwords that are easy to breach.
Offer to help a company and its users get set up with a password management application via a remote session. It's often not having the time or knowing how to get started with a transition that keeps companies from adopting a password manager.
You can offer to do the whole setup for them and their users to help them protect themselves in the coming year from one of the biggest current threats to company security.
Review Cloud Account Use to Help Companies Streamline & Lower Costs
Cloud accounts are used widely and can easily get out of hand. Companies and users begin using multiple SaaS apps, and suddenly costs are ballooning and redundancies are popping up.
Cloud waste nearly doubled in 2019 compared to the previous year, and orphaned app subscriptions were up 100% for all company sizes.
Another new year optimization service you can offer by remote support is to help companies streamline their use of cloud services and reduce their waste and costs.
A cloud use review can improve a company's ability to integrate and automate processes in different apps and improve user productivity.
Offer an Email Cleanup & Workflow Optimization Session
Email is one of the applications that users are in the most throughout the day. When email isn't well organized and users don't know how to use organizational tips like rules and flags, a lot of time can be wasted going through email that doesn't need to be.
Offer an email cleanup and workflow optimization via remote support to guide users in an email setup that works for them and puts the most important emails front and center. Using rules, you can also show users how to reduce the need to manually move messages into folders, and instead, have it done automatically.
Use the New Year to Launch Optimization Services with Instant Housecall
With Instant Housecall remote support software, you can easily connect with customers for many different types of remote support sessions to grow your business.
Try Instant Housecall risk-free for 15 days and experience it for yourself! Try it out now.