No matter how much IT professionals talk about the importance of IT security, there are still a lot of users not following simple best practices. This results in devastating breaches for companies and instances of identity or credit card theft for the victims.
Cybersecurity is an ongoing conversation and as an IT business or other type of technology support provider, you're in a perfect position to help keep that awareness going during your remote support sessions. 
A study by Stanford University found that human error accounts for 88% of all data breaches. Helping reduce the risk of an employee causing an accidental breach for a client can illustrate just how valuable your company is as a service partner.
While the reason for a remote support session may or may not be security-related, there are some ways you can bring in a few awareness tips while you're on the call. 
Relay a Customer Story
People often remember things that they hear in a story. They relate to one of the characters or the situation and it helps a point stick with them.
Without naming names, of course, relate a pertinent story about a customer where a lack of a basic IT security measure caused them major problems. Then relay the IT solution that fixed the issue. Such as your company implementing mobile device security after a malicious app download caused a network breach.
Mention a Recent Cybersecurity Headline
There have been a couple of high-profile ransomware attacks in the news this year, and a client may likely have heard of them, but not really know what it was all about.
Putting a major breach into a context that the person can relate to helps drive home the point of IT security diligence.
For example, you could mention the Colonial Pipeline ransomware attack that caused major gas shortages across the East Coast. Most people will have read about it, but not many will know that it was initiated from an unused VPN account that wasn't closed out when no longer needed and wasn't protected with multi-factor authentication.
Explain Why Your Remote Support App Takes Precautions
When you're on a remote support session, mentioning that your remote connection software has top-level encryption and disconnects automatically when the session is over helps ease security fears. 
If you take that a step farther and explain why encryption is important it might connect the dots for the person as to why sensitive data being transmitted over the internet should be secured.
Use a Recent Cybersecurity Statistic
Statistics help put things into perspective for people that might think nothing much is different about malware today as it was five years ago. Mentioning that in the past year, ransomware attacks have grown 485% may get them to realize they need to take additional precautions to prevent an attack. 
When on a support call with a small business client that might be a little too lax with their cybersecurity, try a relatable statistic. You could mention that 60% of small companies go out of business within 6 months of a cyberattack, which may be a wake-up call for them.
Show a Convincing Phishing Email & How To Tell It's a Fake
If your remote support session has anything to do with email security, showing them in real-time what a phishing email looks like and how to spot one can give the person important phishing identification training.
For example, in the phishing email below, there are two giveaways to this being a phishing email:
Hovering over the link reveals a phishing site URL

There is a grammatical error in the second sentence:

"We

confirmation

that your item has shipped."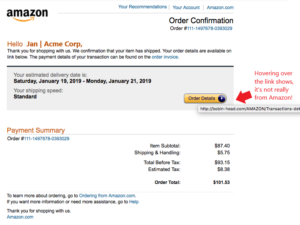 Leave Them a Link to a Cybersecurity Tip Sheet
Service partners that cement their value to their customers go above and beyond what their competitors will do. You can spread best practices and help promote a culture of cybersecurity for your clients by sending a link to an IT security tip sheet with best practices at the end of your remote support session.
You can pull several great tips from the Cybersecurity Awareness Month resource site here. Then use those on a sheet with your branding and be sure to include a link to your website and phone number to call for help with any IT security needs. 
Provide Your Techs with a Cybersecurity Checklist
When promoting cybersecurity awareness, you want to ensure that your own technicians are following best practices themselves. Make it easier for them by providing a remote support call security checklist. 
It should include your policy on how connections are initiated, how they're terminated, and any other security protocols your team is to follow when providing report support.
Use a Remote Support Software That Promotes Security Best Practices
Instant Housecall remote support software has multiple layers of security built in to ensure all your sessions are completely secure. 
Try Instant Housecall risk-free for 15 days and experience it for yourself! Try it out now.