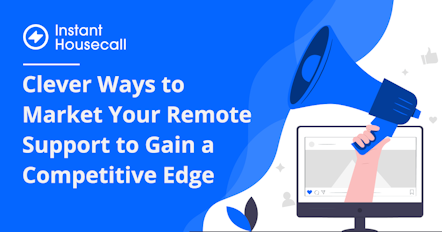 Of all the services that IT businesses provide, the one that is typically the "bread and butter" is managed services. A managed support plan keeps revenue coming in the door each month and can be streamlined through an RMM tool to be very time efficient.
If you can effectively use your other popular services to cross-sell MSP plans, then you can increase your revenue and gain more long-term clients.
One of the services that can act as a springboard in this way is remote support. It's gained in popularity during the pandemic out of necessity and due to the rise in work-from-home employees. This is a trend that's not going away.
The number of employees permanently working from home is expected to double in 2021.
Because the need for remote support has increased sharply, it's a great tool to use for promoting your managed support services. You can think of it as a steppingstone in your sales funnel if you do it right. Here are several ideas you can use.
Bundle It in as a Selling Point
Having unlimited remote support as a managed service plan feature can be the deciding factor that pushes a company towards a remote support plan. Bundling remote support with your services packages can also be a better deal for a customer who may be using a lot of remote tech support.
For example, a company with 30 remote employees might be paying nearly as much for remote support troubleshooting and software setup and not realize it. For just a little more they could get a full package of much-needed services, such as managed antivirus, backup & recovery, patch management, and more.
The thought of unlimited remote support can be a big draw and it can make the "numbers make sense" to a business owner that's trying to justify the cost before moving forward.
Use It to Draw People to Higher Level Support Plans
Remote support can also be a handy way to entice lower-tiered support plan customers to a higher level of support. For example, your most basic MSP plan may not include remote support as a part of the package, but your Intermediate tier does.
Getting remote support along with all the other services could be worth it, especially if a basic tier customer is having to pay for remote support on top of their monthly fee.
You can even do a few tiers and increase the level of support as people choose a higher-level package. Such as:
Basic Plan: No remote support included
Intermediate Plan: Three hours of remote support included per month
Premiere Plan: Unlimited remote support included
Add a Link to Remote Session Summary Notes
When you finish a remote support session, it's a good practice to send a summary of the session to the client afterward so they understand exactly what was done. This is especially true when you're providing support remotely for an unattended device and the owner wasn't there to see what you did.
This summary note can be sent via email or through a virtual sticky note on a screen when using Instant Housecall remote support software. On your summary note, you can include a message about your managed IT services.
For example, you could do something like, "We identified a virus that was causing your PC issues. We've completely removed it and checked to ensure all files were intact. Your system is clean and operating normally now. PS: You may want to check out our monthly managed services, which include managed antivirus/anti-malware!"
Do a Price Comparison on Your Remote Support Page
If you are bundling unlimited remote support with one of your managed services packages, then you can do a price comparison on your remote support page. You might actually capture a new MSP customer right away with this tip.
Do a comparison such as the average price for a 1-hour remote support session x times per month, and the price for your managed services plan with unlimited remote support.
You can't just assume someone is going to figure it out for themselves that if they're using a lot of remote support, it's a better deal to just get a managed services plan instead. Spell it out for them!
You could even offer two buttons on your remote support page:
One button to initiate a one-time support session
One button to initiate the session and at the same time, sign up for managed services with remote support included.
Use a Remote Support Software That Streamlines Your Process
Instant Housecall is a powerful yet easy-to-use remote support software that allows you to spend less time and energy providing quality remote support.
Try Instant Housecall risk-free for 15 days and experience it for yourself!